Revitalizing Carpet Cleaning in Marietta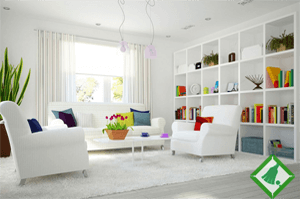 Your carpets and rugs are some of the biggest interior decorations in your house. As such, they are constantly exposed to large amounts of dirt, dust and allergens, especially if they are placed in high-traffic areas. It does not take long for the average fabric to start looking worn and dirty, which leads to reduced interior appeal and bad indoor hygiene.
Simply vacuuming your carpets isn't the most efficient solution to keep your soft flooring clean and fresh every day. It will just clean the top surface of the fabric and not even touch dirt that's entangled deep within the fibers and down in the base layer of the material.
That's why it's strongly recommended to have your carpets thoroughly cleaned at least twice a year and use the services of a licensed cleaning company. This not only improves indoor air quality but also keeps your home interiors looking cleaner and fresher for longer.
Holly's Carpet Cleaning Techniques
Our competent carpet cleaning services in Marietta are suitable for any type of synthetic and natural carpet fibers. We utilize specialized cleaning techniques that work deep inside the carpet material, between the fibers and all the way down to the base layer. The final result is a better look, vibrant colors, sweet scent and improved hygiene.
Our technicians start this carpet cleaning process with a proper assessment of the fabric to ensure no damage to the structure of your favorite soft floorings – slumps and clumps, shrinking, deformation or even losing colors.
The two most effective and thorough carpet cleaning techniques are hot water extraction and dry powder cleaning. The first is used mainly for the deep treatment of natural fabrics. Sometimes it's called steam cleaning, as it uses water and needs a few hours for the material to completely dry. The second method's emphasis is on reduced drying times and is the preferred choice for man-made textiles.
Protect Your Sofas and Armchairs With Regular Upholstery Cleaning
Your soft furniture is one the most significant investments in your house. And because it's made from delicate upholstery materials, it's also one of the most vulnerable items in your living rooms that collect dust and dirt.
Professional cleaning of your upholstery is the most appropriate way to keep it clean and hygienic. Simple vacuuming can make it appear pretty clean, but it won't remove bacteria and allergens that usually build up in the material over time.
There is a wide variety of upholstery cleaning methods and stain removal techniques, but for delicate textiles, it's really important to use the services of someone with knowledge and experience. Otherwise, if you try to DIY, you might cause untold damage to your costly furnishings.
Why Work With Our Carpet and Upholstery Cleaners in Marietta
Fully trained, qualified in proper fabric assessment, licensed and insured technicians
Utilizing advanced hot water extraction (steam cleaning) or dry powder cleaning techniques
Pre-treatment of stubborn stains and high-traffic areas to ensure deep cleanup of the material
Clean your carpets, rugs, couches and armchairs on a regular basis to prolong their lifespan
A great addition to your house cleaning and move out cleaning appointments
Ask for our special deals when you book more cleaning services at the same time
Get free quotes with no further obligations on

(770) 285-7089

now
Professional Cleaning For Every Carpet and Upholstery in These ZIP Codes
Marietta GA: 30008, 30060, 30062, 30064, 30066, 30067, 30068
Smyrna GA: 30080, 30082
Vinings GA: 30339
Kennesaw GA: 30144, 30152