Accomplished Oven and BBQ Cleaning Marietta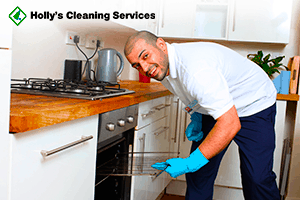 Is your grill or BBQ covered in a layer of cooked-in fat? Have you been scrubbing it for hours, but don't seem to have any success in removing the grime? Let's take care of this daunting task, while you sit back and relax.
Holly's cleaners have years of experience in cleaning ovens, grills and barbecues and know-how of what cleaning products to be used in order to guarantee top results. You will have your cooking appliances look like the day you bought them from the store.
Marietta Competent BBQ Cleaning
Freshen up your BBQ in time for the next great outdoor party with friends and family. Let a crew of skillful barbecue cleaners in Marietta do the job for you. They will disassemble all removable parts and put them in a tank of non-toxic cleaning detergent to soak, thus cleaning all food leftovers and build-in fat. Next, the inside and outside surfaces of your barbecue will be cleaned and polished. Finally, the appliance will be assembled back and ready to be used.
Detailed Oven Cleaning Services in Marietta GA
Keeping your oven clean and hygienic is a great way to safeguard the health of yourself and your family. Do not spend any more hours on your knees, trying to scrub away all build-in fat. Hire a qualified oven cleaning team in Marietta to do the hard work for you. A combination of advanced cleaning equipment, sensible techniques and highly trained staff will restore your oven to its pure and fresh condition.
It will be disassembled to ensure that no corner will escape the team's careful attention. Each removable part will be soaked in a vat of special cleaning solution to remove all grease and food leftovers. In the end, the cleaners will carefully assemble your oven and polish it. It will be ready to cook the next tasty meal.
Why Choose Holly's Oven Cleaning Services?
Avoid all those annoying and time-consuming tasks
Forget about all strong abrasives. No more scratched surfaces or broken coatings
Gentle cleaning of all removable parts will ensure exceptional results
Extend the lifespan of your cooking appliance
Keep the good taste of all cooked food