Upholstery Cleaning Marietta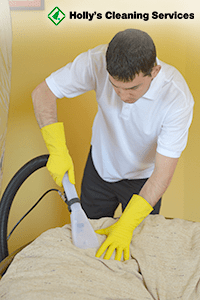 Is there a dirty patch on one of your armchairs? Do the couches in your home look dirty and worn out? Bring your soft furniture back to life! Trust Holly's upholstery cleaners in Marietta that will use the latest cleaning tools and solvents to remove stains from your sofa, couch and armchair. They have the needed experience to assess fiber and material types and choose the most appropriate cleaning method.
Efficient and Protective Methods to Clean the Upholstery
Professional cleaning of your upholstery is the most appropriate way to keep it hygienic and safe to sit on for all the family. Simple vacuuming can make it appear pretty clean, but it will not remove all bacteria, allergens and pollutants that commonly build up into the material over time. If you haven't paid enough attention to your sofa for an extended period of time, you need the services of qualified upholstery cleaners. They will penetrate deep into the base of the fabrics with special equipment and solve the issue.
Dry upholstery cleaning: Most effective for man-made materials. The technicians will spray non-toxic dry powder, will insert it deep into the fabric using fine brushes, and will then extract it along dirt, dust and build-up grime, using a powerful vacuum cleaner.
Steam upholstery cleaning: Also known as the hot water extraction method. Used mainly for natural fabrics. A water solution of special detergent will be inserted deep into the material and then extracted along with impurities and almost all moisture. A couple of hours will be needed for the upholstery to be completely dry.
Why Choose Our Marietta Upholstery Cleaners
The cleaning team will pay you a visit also on the weekend or in the evening
Removing coffee, red wine, food, make-up, lipstick, crayons and other stains
For the benefit of your family, only eco-friendly cleaning products will be used
You can save time by booking any two cleaning services at the same time. Order upholstery cleaning along with carpet cleaning and house cleaning services.